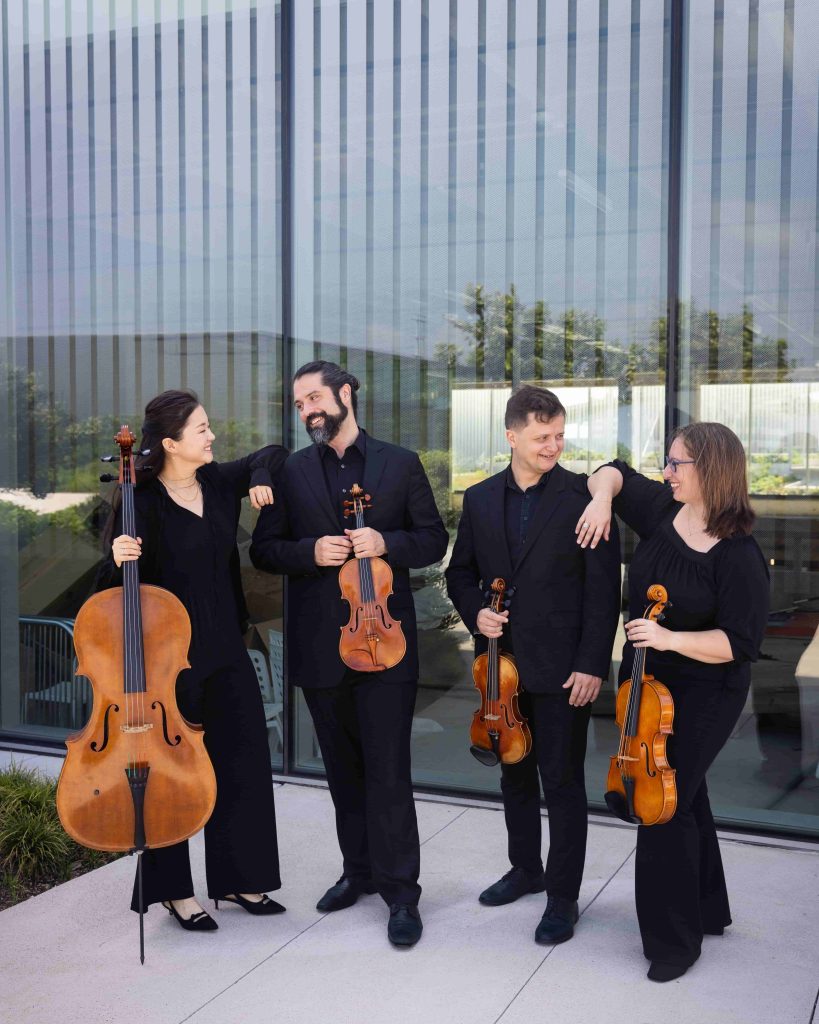 River Oaks String Quartet
River Oaks String Quartet is one of the most sought after Houston based ensembles for weddings, corporate events, and parties. The group performs both classical music, as well as original arrangements of popular contemporary songs, bringing a level of artistry and professionalism your guests are sure to notice!
"The music was beautiful, the musicians were professional, and it was a breeze to coordinate and organize. I highly recommend using them!"
Coming from a family of musicians, Eugeniu Cheremoush discovered his passion for the violin at the age of four. During his youth, Mr. Cheremoush participated and placed in international violin youth competitions in Romania, Moldova, and Bulgaria. He has performed recitals in the three most prestigious halls in Moldova, and has made appearances with the National Moldovan Philharmonic, the Opera and Ballet Orchestra of Moldova, and the Moldovan National Chamber Orchestra. Mr. Cheremoush earned his Masters degrees in violin performance at the Cleveland Institute of Music and at Rice University's Shepherd School of Music. Mr. Cheremoush received fellowships with the Aspen Music Festival and School, and  the Pacific Music Festival in Sapporo, Japan. Mr. Cheremoush was a member of the Houston-based Carya String Quartet 2018-2021. Currently, Eugeniu is an active member of the community, and he enjoys performing in a wide variety of musical genres, from Baroque, to Jazz. Eugeniu often appears in performances with the Mercury Chamber Orchestra, Houston Grand Opera and Houston Ballet.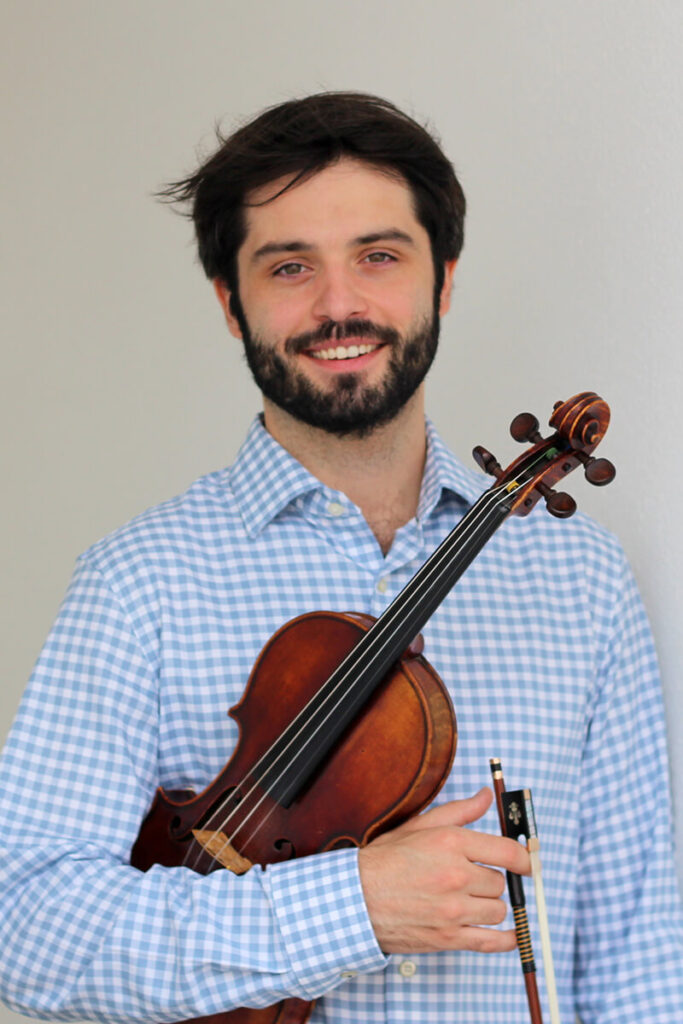 Violinist, Zachary Montasser,  earned his Bachelor and Master of Music degrees in 2011 from University of Houston's Moore School of Music, and then went on to receive a Performance Certificate with a focus on violin performance in 2013 from DePaul University in Chicago studying with renowned American violinist, Janet Sung.
An avid chamber musician, Zachary was the founding member of two classical string quartets, the Clark Street Quartet and the Fusion String Quartet, which was featured in the prestigious Hot Spring Music Festival, the House of Blues, and toured throughout the US.  He was a featured violinist in the Tikvah Company of Artists, where he accompanied live contemporary dance.  He has also performed in the Oistrakh Symphony Orchestra, the 42nd Parallel and has played in the orchestra for Broadway show including Oliver!, My Son Pinocchio, Cinderella, and others.
Born in 1983, Laura received her violin diploma in 2004 with professor Diego Masutti and piano diploma in 2005 with professor Ugo Cividino, both at the J. Tomadini Conservatory of Music in Udine, Italy. She continued her studies in Klagenfurt, Austria, with Professor Helfried Fister and in March 2008 received a violin diploma from that school. She graduated with a Master in Violin Performance with Professor Andrzey Grabiec at the University of Houston, Moores School of Music in May 2012. In February 2014 she received her viola diploma with Luca Morassutti at the G. Tartini Conservatory of Music in Trieste, Italy. During her career she has performed in various cities in Italy, Austria, France, Spain, Portugal, Slovenia, China, Colombia, Chile, and the United States. She has been a member of the OAO (Orchester Akademie Ossiach), and of the SFK (Slovenia, Friuli, Kaerntner) in Austria, the Piccola Accademia in Italy, Clear Lake Symphony, Houston Sinfonietta, the Moores School of Music Orchestras, YOA (Youth Orchestra of the Americas) in 2012, Brazos Valley Symphony Orchestra, "Mercury – the orchestra redefined," Bach Society Houston, Austin Baroque Orchestra, and the Symphony of SouthEast Texas in the United States. She has taken part in masterclasses with Gustav Mayer, Helfried Fister, Rainer Kussmaul, Igor Ozim, Andrzej Grabiec, Giovanni Guglielmo, Lorenzo Fava, Isabelle Ballot, Rainer Honeck, Joseph Silverstein, Stephen Shipps, Lucie Robert and, for chamber music, Alois Posch, Sean Y. Wang, Domenico Nordio, Alberto Vianello, James Dunham, the Debussy Quartet, and Timothy Hester. Laura is currently teaching and freelancing in Houston as a violinist and a violist. She is also a founding member of the Houston-based Carya String Quartet, a group dedicated to creating community through chamber music concerts and educational programs, which is about to start its sixth season of activity.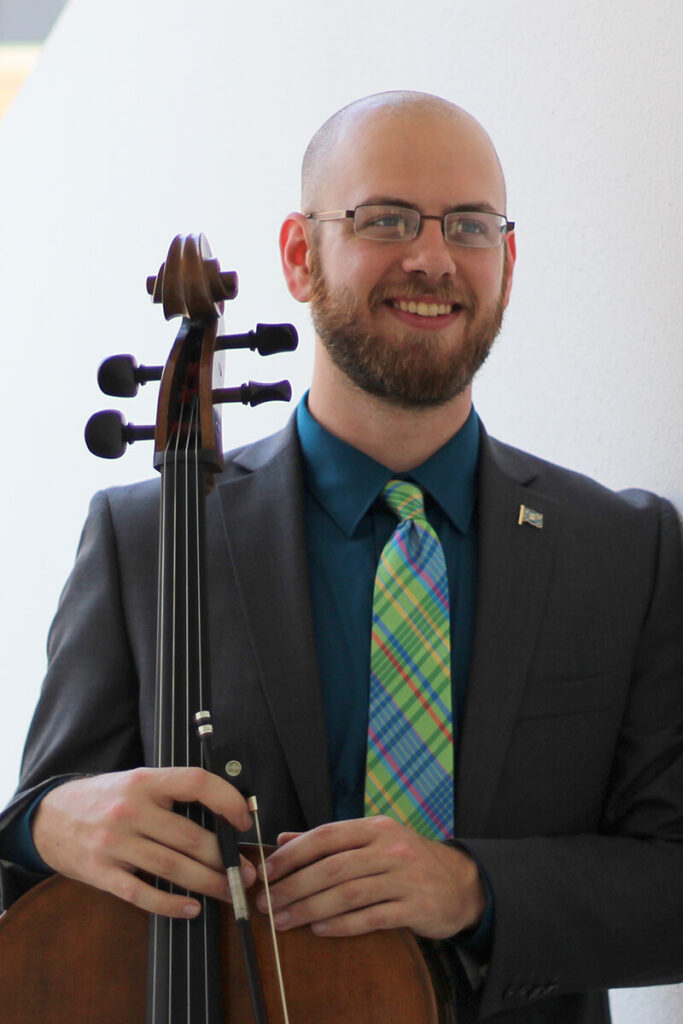 Cellist, Daron Kirsch,  a Texas native, is active as a cellist throughout the country and internationally.  He received his Bachelor of Music degree from Sam Houston State University under Daniel Saenz, and the Master of Music from the Florida State University as a student of Greg Sauer. He has toured with orchestras in New York, Puerto Rico and China.  In 2012, Daron recorded the 2nd Symphony and Two Songs for Baritone and Orchestra of Ernst von Dohnanyi (Naxos) as member of the FSU University Symphony Orchestra and has participated in masterclasses with Mike Block, Carter Enyeart, Jeffrey Butler, and Allen Nisbet, among others.
Daron performs frequently with orchestras in the southeast including the Northwest Florida Symphony Orchestra, the Valdosta Symphony and Sinfonia Gulf Coast, and spends his summer at the Taneycomo Festival Orchestra, where he gave the American premiere of Nikolai Kapustin's Op. 99 Duo for Alto Saxophone and Cello with Cole Belt.